Domain Registration: How To Change Domain Auto Renewal Settings
Log in to your Domain Dashboard.

On Card view, click Manage.

On List view, click the domain name or cog icon.

From the summary tab, you'll be having an option to turn on the auto-renewal. (Please make sure that the auto-renewal date should appear on the right side under "Domain Information").
How Can I Tell If My Domain Is Set To Automatically Renew
After clicking on "Manage" you will be routed to your domain settings. And from there you should be able to see the button slider to turn-on the auto-renewal. Please be reminded that the auto-renewal date will show on the right side under your Domain Information.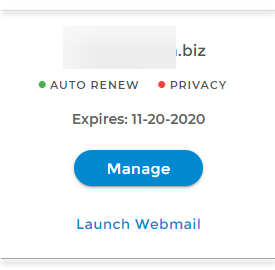 Auto-Renewal domain is set for auto-renewal and the renewal date should show on the right side under the Domain information.
Expired Domain domain was not renewed, you can check for the availability of the domain by clicking the "Check Availability" button. And you'll be receiving a pop-up for its availability.
ADRS Rules and Policies
ADRS requires valid billing information in order to renew the domain.
ADRS will attempt to use a domain credit before using the billing information on file.
ADRS will renew the domain 15 days before its expiration date.
If ADRS fails, additional attempts are made 13, 11, 5, and 1 day(s) before the domain expiration date.
ADRS will not make any additional attempts to renew the domain beyond the days described above. If the final attempt fails, the domain must be manually renewed.
ADRS will not issue a refund for a domain set to manual after the automatic renewal.
ADRS will not issue a refund if the domain is renewed and then suddenly transferred to a different Registrar.
If you have other concerns regarding ADRS and refund policy, please see the Domain Name Registration Requirements: Registration Renewal under Section 8 Registration Renewal.